« Back to News
Double Envelope delivers through a century of transitions
May 30, 2017

Double Envelope delivers through a century of transitions
By Sarah Cox May 28, 2017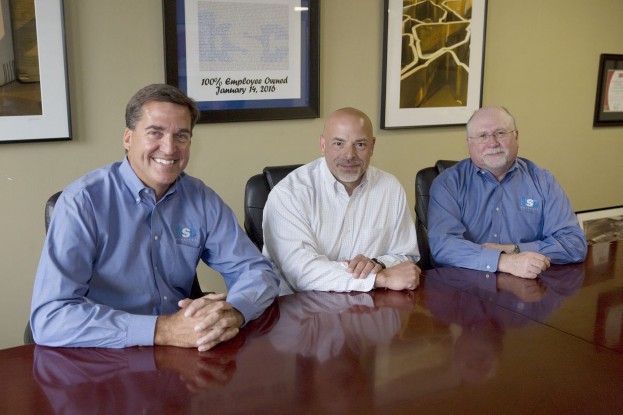 Heather Rousseau
Brian Sass, chairman and CEO (left); John Peyton, executive vice president; and Ron Roberts, CFO, guide Double Envelope, which is observing its 100
th

anniversary this year.

In the past century, Double Envelope has grown from a company of three stockholding officers and four employees to an employee stock ownership business under BSC Ventures Holdings, Inc. with four locations and 450 employees.

It was founded by the Baer family in 1917, and the name derived from its original business of manufacturing two-compartment envelopes for church offerings. Today, Double Envelope produces what Brian Sass, chairman and CEO, calls transactional mail (envelopes for bills, bank statements and health insurance explanation of benefits); direct mail pieces; and specialty packaging products. That adds up to 7.5 billion envelopes a year.

The original owners made their first move to a bigger space on Luck Avenue in Roanoke in 1925, incorporating a folding machine that enabled the company to offer commercial envelopes. It also allowed production of envelopes for photo- finishing businesses.

In 1960, after several expansions, Double Envelope opened a 75,000-square-foot building on Plantation Road in Roanoke. Today, the facility encompasses more than 135,000 square feet and is home to manufacturing space and corporate offices.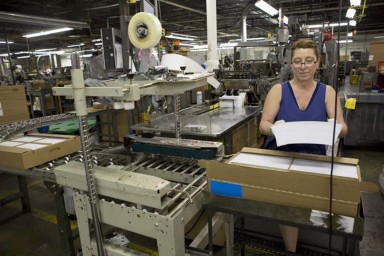 Heather Rousseau
Operator Sandra Wilbanks in the warehouse at Double Envelope, which is marking its 100
th

anniversary.

The company is the third-largest envelope manufacturer in the United States, with locations in Roanoke; Baltimore, Maryland; Gainesville, Florida; and Angola, Indiana.

Under the Baer family, Double Envelope experienced significant growth in the 1970s and '80s before the decision was made to sell, according to Sass.

The family sold the company in 1987 to a private equity firm. It was then sold to the DIMAC Corporation in an effort to form a vertically integrated direct-mail operation.

What that does, Sass explained, is allow one firm to handle all the steps in a mailing process, including data/list management to source prospective customers; creative/ad agency work to design the mail piece; the actual production of the inserts and envelopes; and inserting the mail piece into the envelope and mailing.

"These require very different skills and resources, and coordinating the workflow between the firms handling these steps can be challenging, so in theory, one firm that could handle all steps would be an advantage," Sass said.

The vertical integration intention was tried, but was "an overreach," said Sass. DIMAC filed for bankruptcy in 2000. A year later, Sass and Stockton Croft bought Double Envelope as well as sister divisions Convertagraphics and Diversified Assembly.

In 2006, Sass bought out the private equity partner that had helped finance the company and subsequently purchased the sites in Baltimore and Angola. Since then, the company has tripled in size, he said.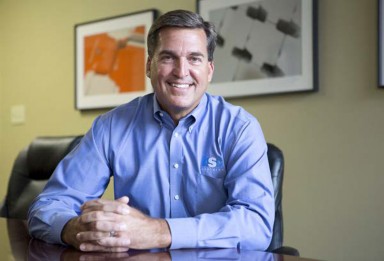 Heather Rousseau
Brian Sass, chairman and CEO of Double Envelope, on Wednesday, May 10, 2017.
Sass led Double Envelope's transition to an employee stock ownership plan, which was finalized in January 2016. That, he said, is one of its significant growth markers, along with the original company's move to Plantation Road in 1961 to expand and "become more visible in the envelope-manufacturing world."
The ESOP and buying out the private equity partnership enabled Sass to expand the market, he said. Double Envelope invested more than $10 million in machinery and equipment between 2011 and 2016 to add nearly three billion envelopes of capacity. The ESOP gave Sass the "strategy to sustain the company beyond myself and to get financial rewards from building a business. The money has stayed in the business," Sass said.
In the last 15 years, he added, the company has prospered because of its "strong, entrepreneurial hands-on strategy."
The ESOP also has given the company a tax-efficient structure while retaining Sass as its principal stakeholder.
"[The ESOP] was a great solution," Sass said. "We wanted to make sure that our employees would have a good place to work and be able to participate in the success of the company."
Double Envelope has more than $100 million in sales and has grown at an annual rate of about 12 percent per year for the last 10 years, according to Sass.
Attention to quality is crucial in his business, Sass said. The envelopes go into high-speed mailing operations. If the envelope with an explanation of healthcare benefits, for example, gets jammed in an inserter, that information is exposed to people who are not privy to it. It also delays operations.
Therefore, Double Envelope products have to be reliable.
Sass attributes the success of the company to an outstanding senior staff, including CFO Ron Roberts; John Draper, executive vice president of sales; and Jon Peyton, executive vice president of operations; and to an ability to be flexible and hands-on with the customers.
"We are willing to do business the way they want to do business," he says. "We build the relationship the way they want it. We have been very progressive in figuring out solutions."